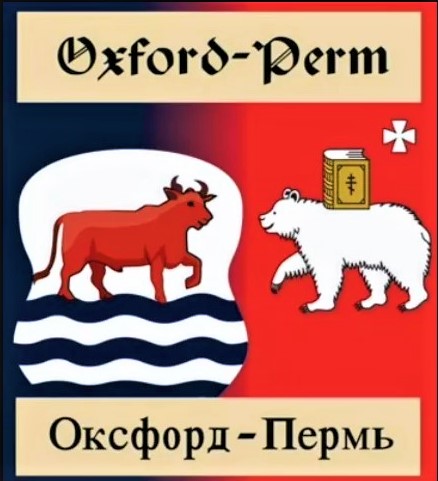 Ms Karen Hewitt, MBE, Professor at the University of Oxford, Professor Emeritus at Perm State University, our long time partner and friend, has sent a letter on behalf of friends in the Oxford Perm Association and from many other citizens of Oxford. The message is titled as "An Open Letter to the people of Perm, to the Perm Oxford Society, and especially to those of you who already have friends in Oxford". Hereby, we publish the full text:
We are members of the Oxford Perm Association, an independent friendly society for anyone who is interested in Perm and in the culture of Russia. We have been working with you for nearly thirty years on projects from classical ballet to medicine to social work. Above all, hundreds of people from Oxford have lived with Perm families, and a similar number from Perm have lived with Oxford families over those thirty years. The friendships forged through these visits have been strong and long-lasting.
In 1995 Oxford City and Perm City were officially twinned. Our city administrations organised seminars on problems that both cities shared and they provided grants for special visits (such the young footballers from a deprived part of our city who came to Perm in 2017, and who still remember the kindness and enthusiasm of your people as 'one of the very best experiences in their lives'). Soon after the outbreak of the present conflict with Ukraine, Oxford City Council decided to end the official twinning link, at least until such time as there is a proper peace agreement.
Members of the Oxford Perm Association regret this decision. Our official twinning has always been a city-to-city relationship, and has never been involved in the political decisions of our rulers. In Oxford we hate the destruction, the suffering and the deaths which are a consequence of this horrible and complicated international struggle. We condemn any actions which increase or prolong that suffering and we believe that the people of Perm are just as eager for peace as we are. Oxford's relationship with Perm is built on civic action and projects, not on political decisions at the centre.
We also believe it is very important to keep open relationships between our cities, not just for friendship but also for information. When hostilities break out, each side tells its own story, and because they are different stories, the people on one side become isolated from people on the other side. Today, it seems to us to be more important than ever to avoid such dangerous isolation. We need to explain to each other, to learn from each other, and to keep our friendships strong.
Members of the Oxford Perm Association want to co-operate with the people of Perm. Realistically, since we are physically separated by conflict and sanctions, this co-operation cannot mean visits between our cities at present. But it can mean developing personal contacts and perhaps group contacts through emails, encrypted apps, and videos. We want to hear from you about life in Perm, your feelings, your actions, your worries – through those individual friends in Oxford to whom you write. If you have no personal friends in Oxford, you can always keep in touch via our website www.oxfordperm.org If you can write in English, it will be easier to find someone in Oxford who will write to you; but of course it is possible to communicate in Russian.
We hope that the official city twinning will resume when peace is properly restored. Meanwhile, please publish this letter wherever you can!
From Karen Hewitt, on behalf of your friends in the Oxford Perm Association and from many other citizens of Oxford.