University Academic Library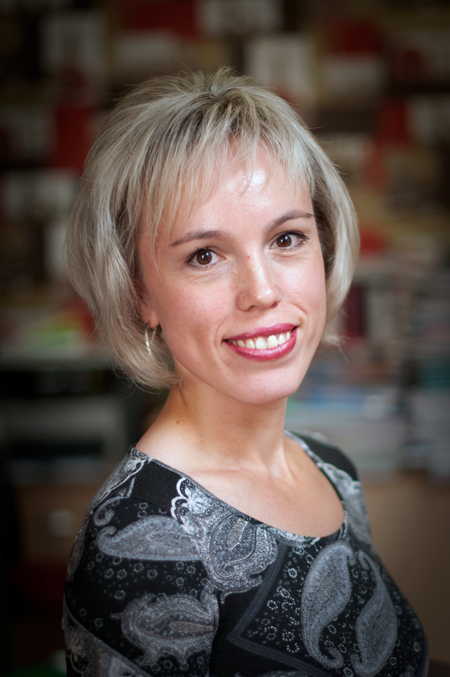 Svetlana Solareva, Head of the Library,
building 1, floor 1, room 137, +7 (342) 239 64 80,
email: solar@psu.ru
Dear international friends, applicants and students, researchers and partners,
Welcome on behalf of PSU Academic Library!
A long-time University contemporary and one of the biggest librarian institutions of Perm region, our Library has always served a place for people of different cultures, a site for meetings, creativity, collaboration, knowledge and practices, new discoveries and communication and, above all, intimate touch with a book.
The Library offers opportunities for learning, research and creativity, and acquires to everyone's personal progress. The accessibility and usability of digital resources, friendly and cozy spaces, ready-to-help and sociable Library staff are some of our distinct characteristics we are proud of. We also strive to make our collections as more open to our readers, as we can.
We form our collection in accordance to educational modules and research topics of the University, acquiring to our users' request. The collection consists of 1 million printed copies and 4,5 million electronic documents, Russian and foreign ones, as well databases created by the Library itself, accessible offline and elsewhere online, including our users' devices.
The Library serves a hub for meetings, clubs, University-related and public events. We gladly provide our patrons with facilities and services, including multimedia and exhibition equipment, safe places for study and work, and support of events through book exhibitions and Library website/social network announcements.
Our Library employs staff with a wide variety of expertise and education, besides their key library experience – philologists, geographers, lawyers, historians, geologists, physicists, biologists, and journalists. Bringing in our competences together, to enhance and enjoy our communication, we aim at our users' needs first, and keep growing along.
Interested in the Library services? We will be glad to hear from you and take you on a tour around our campus branches – showing all Library facilities, providing access to our resources and answering your questions. We hope PSU Library to become your trusty partner in study, research and extra-curricular activities!
Yours,
Svetlana Solareva,
Head of PSU Academic Library.
The Library Today
PSU Academic Library is popular both among students and teachers of Perm State University, and citizens of Perm. The Library lends out more than 1 million printed and electronic documents, annually. The Library includes 5 loan units, 7 reading halls with 387 seats, including 32 individual spaces with an access to Library computers.
The Library offers facilities and services for students with disabilities, including portable technical equipment for persons with visual and hearing challenges, and an automated workplace for students with movement disorders and cerebral palsy.
Part of educational and scientific collection is in open access. Library users enjoy both relevant and legitimate information sources, as well as the space – running creative projects and extra-curricular activities, with librarians performing as friends and assistants, when needed.
The Library acts as a communication hub, contributing to University contacts with the world, promoting academic and overall University achievements, supporting broader cultural and social initiatives. The Library staff runs a set of original events, like presentations and book exhibitions, including those by University scholars; hosts for arts-related and musical venues; supports conferences, seminars and forums with online and on-site exhibitions.
The Library is part of a University intranet. Its sources are also available through a PSU Academic Library website and a VK social network group .
Sources of Information
PSU Academic Library provides a wide range of information services, to mention access to ELiS electronic multimedia library. The Library activities incorporate digital rights management (DRM) technology, hosting for publications by PSU scholars, acquired e-publications and scanned copies of the Rare Books Collection.
The Library is a member of the Russian Library Consortia. It provides access to subscription databases containing up-to-date information from well-established Russian and international scientific sources, citation systems, analytical tools, electronic library catalogs – enabling choice of ways and means to access information and gain knowledge, both in digital and printed formats.
PSU international students sharing interest in Russian culture, traditions and history are provided with access to a relevant database, that also comprises data on linguistics, phonetics, history of language and country studies, as well as fiction.
Online Services, Wi-Fi and Hiring Space
The campus facilities provide connection to PSU wi-fi, as well as free charging of personal mobile devices. The "bring your own device" approach makes access to e-collection more convenient. The Library was the first in the Perm territory to introduce radio-frequency identification (RFID), allowing to identify users, track book loans and run related statistics.
The Library facilities provide unlimited access to Internet, as well as Library databases. Three interactive project spaces are available both for teachers and students through online booking. The use of reading spaces is free of charge. Personal belongings, including printed items, as well as drinks in a closed container are also allowed.
What is Unique about the Library?
On the local level, PSU Library has formed a unique collection, including handwritten books and early printed editions. The oldest Library item is "The Proceedings of Erasmus of Rotterdam" (1536). A significant part of Library projects has been connected with the Rare Books Collection.
The Library staff carries constant research of the Rare Books Collection, as well as keeps its items accessible to the general public – the activity improved through a set of dedicated exhibitions and tours. Annually, more than 2,000 local residents enjoy seeing PSU Library gems.
In 2018, the Rare Books and Periodicals Collection became a part of the Museum of PSU History. For the sake of preservation, enabling further professional collaboration and presentation opportunities, more than 20,000 valuable items, including handwritten documents and early printed editions, periodicals of the Russian Empire and old maps joined the Museum's collection.
PSU Library History: Why is It Special?
The story of PSU Academic Library is closely related to the University history. The primary book collection had been formed through donations by well-known and previously established universities of Petrograd, Moscow, Yuriev (Tartu) and Kazan, as well as other academic institutions, museums, administrative bodies and individuals. The Imperial family had been also involved: among the first to contribute was Grand Duke Nikolai Mikhailovich. The Russian Academy of Sciences and the Russian Geographical Society also made their contribution, followed by the Ministry of Public Education.
The lack of funding and shut of publishing houses formed a gap in the Library progress during the years of the Russian Civil War (1917-1923). In the 1930s, as a number of PSU faculties were transformed into independent educational institutions, a large part of the Library collection was consequently divided around the city. The WWII also caused significant losses to the Library.
Accompanied by acquisition of new collections, the post-war changes touched the whole structure of the Library; by 1972, its collection exceeded 1 million copies. Twice the Library received awards by the Ministry of Culture of Soviet Russia. In the 1980s–1990s, as new technologies treaded into the librarian activity, and the first computers appeared, the electronic catalog was started. In 2007, the word "Academic" complemented the PSU Library status.
2010 marked a new stage in the Library progress. The use of latest equipment made it available e-book loans, open access to literature, and space upgrade. The reading halls became more user-friendly, with silent zones for individual work, communication hubs and rooms for project activity, creative cooperation, education, research and cultural exchange on various levels.
Please, feel free to find more at http://www.library.psu.ru/