How far may we keep the social touch in the face lockdown and virus restrictions? Erica Panfilova, student of the Department of Clinical Psychology, Faculty of Philosophy and Sociology, PSU took part in the #INFOCUS 2020 International Forum for Inclusive Social Transformations, traditionally taking place at the UN Headquarters in Geneva (Switzerland).
Erika Panfilova, a student in psychology, is the Good Instructor of the innovative inclusive program by the New City "Druzhny". At the motivational session "Children and Adults: Practices of Effective Partnership in Achieving Social Well-Being" Erica spoke about an online marathon to support children during a pandemic.
"We have developed a program to distract children from negative news and get them interested in competitive activities. From 23 March to 11 May, our patrons performed creative tasks, met online and run communication there. Not only were we able to relieve stress among children and support them in a new challenge, but also to revealed their talents, sharing positive and useful time together,"

says Erika Panfilova.
The Forum was held from 2 to 3 December in an online format. The key agenda was the issue of providing inclusive approach under self-isolation. The Forum was attended by over 1000 representatives of the non-profit sector, business companies and educational institutions. The key Forum participants were socially active young people capable of contributing to the inclusive environment, receiving the status of the #INFOCUS youth ambassadors.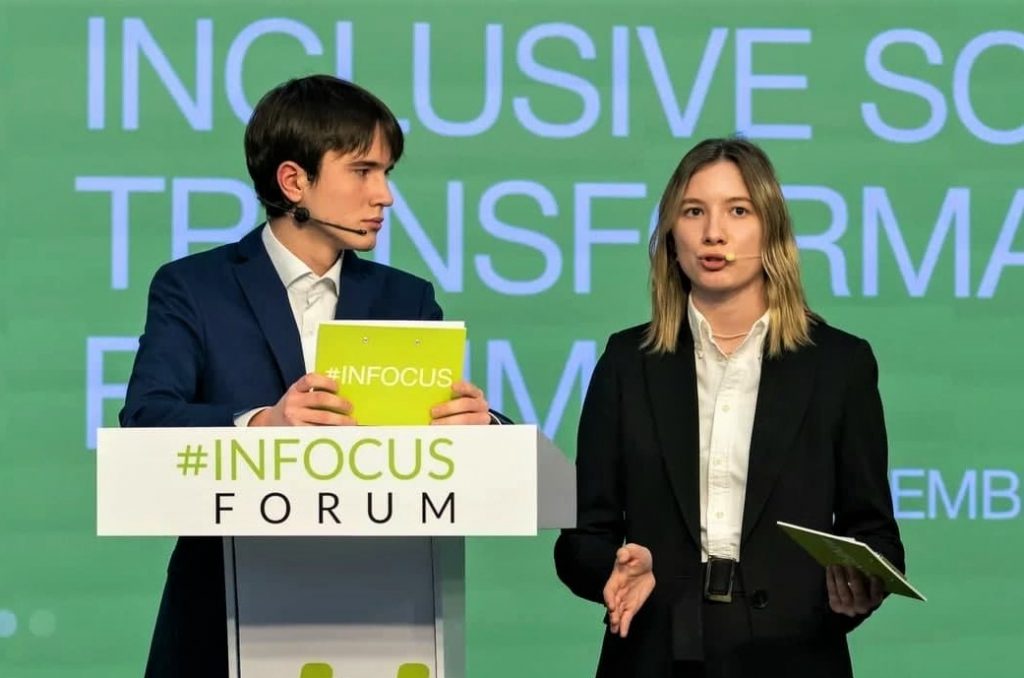 "I have been one of the organizers of inclusive events for three years, already. During this time, I became a Forum expert. Now I help our patrons from the New City "Druzhny" and other programs to become ambassadors, too, so that they could spread our inclusion practices in other territories of Russia,"

Erika Panfilova shares.
The #INFOCUS Forum is a priority discussion platform with the participation of the largest UN entities, public sector and business community on sustainable development and expansion of inclusion. The Forum defines its mission in contributing to 17 goals of sustainable development by UN. In particular, the Forum addresses challenges of inclusive society, social partnership and formation of social capital. The Forum's goal is the development of universal approaches and the search for effective technologies for expanding social inclusion with the participation of all public institutions: education, NGOs, youth leaders, business, and government.
The New City "Druzhny" is an innovative program by the National Association for Education Development "Notebook of Friendship" (Тетрадка Дружбы), aimed at interaction and joint leisure of children and youth with different levels of physical, mental and psychological abilities. The "Notebook of Friendship" has been organizing UN-based events since 2010. The Association urges to provide more accessible and effective education through implementation of high humanitarian technologies, aka 'high-hume'. The Association contributes to developing the inclusive society, volunteering and charity by designing and supporting youth-oriented activities.