Song Tianyao (China), a graduate of Perm State University has recorded an unusual congratulation on the Chinese New Year. (As a sleeve note: Song Tianyao has recently defended her PhD (candidate of sciences) thesis in philology at PSU, congratulations!). Today, singing the famous Snowflake Song, she addressed all those Chinese and international students interested in East Asian culture – wishing everyone a happy holiday:
"… The New Year's on the way,
Will make your dream come true:
As long as snowflakes are not melting,
Don't let the snowflakes keep on melting –
Until the clock tower ends the tune,
Until the clock tower ends the tune…"
For the Chinese people, the New Year is not just a change of dates, as it marks the start of spring and so blossoming of nature. The astrological sign of 2022 is the Tiger, who shows respect to beauty and people following it. While the Tiger prefers the red color, the tradition in general supports fires and loud noises, believed to scare evil forces away. On the night of 31 January to 1 February, fireworks were around the University campus – the Chinese students celebrating the entry into a new life cycle.
"I would like to congratulate all those Chinese students currently studying in Russia on the Spring Festival," says Song Tianyao. "We all know the severe virus situation makes us hard to follow it. Yet, I believe together we can overcome this challenge."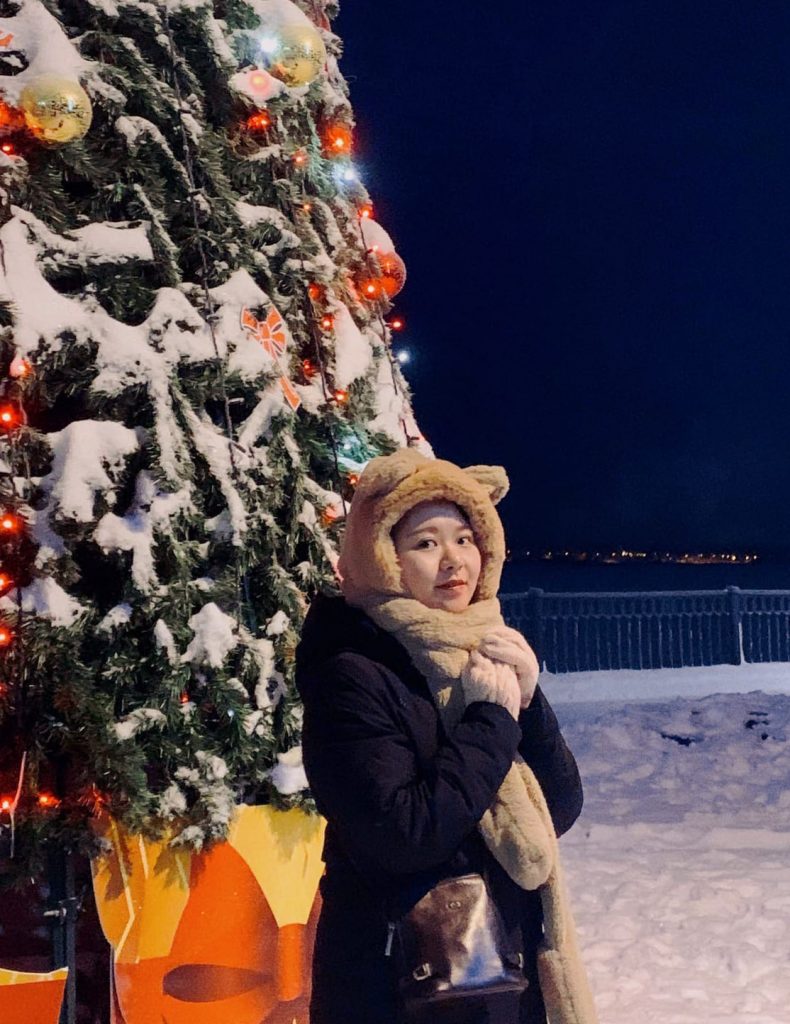 The holiday begins a week before the event itself – started with a general cleaning, for the Tiger loves clean houses and hardworking people. Despite the distance from their homeland, each student strives to decorate a hostel space with bright colors – using lanterns and symbols of the year as decor. Students call their parents, yet refrain from communal celebrations around a broad dinner table with dumplings:
"For me, this New Year is quite unusual, as I am celebrating it alone, trying to stay safe and escape the potential illness. With the completion of my studies, I am planning to get back to China, so I have to limit my social contacts," Song Tianyao admits.
The Snowflake Song was first performed in "The Magicians" Soviet film in 1982 by Olga Rozhdestvenskaya and the Good Fellows band. Although not a holiday hit, it became a favorite choice among many later artists, from pop to punk – seeing several remakes in 2002, 2008, 2014 and 2016.
"I came into this song completely by accident. Immediately since I heard it, I liked it. Our New Year's songs are not related to winter, as we have a different climate all across China. And, in some parts, like the South, we don't have snow at all," the Chinese graduate shares.
On her arrival back home, not only Song Tianyao will be able to chat with her family at a holiday dinner, set fireworks and make a traditional family photo; she will also launch a paper lantern, lifting a card with her wishes up into the skies. Meanwhile, Perm State University will remain in touch with her and other alumni, waiting for new students and hoping for a brighter new year.
For reference:
For three years, Song Tianyao has been working as an assistant for the Department of Theoretical and Applied Linguistics, PSU and teaching Chinese language to students of three faculties – Philology, Geography and Modern Foreign Languages and Literature. In December 2021, Song Tianyao defended her PhD (candidate of sciences) thesis on Artistic Reception of B. Vasiliev's Military Prose in China.
In the academic year 2021-2022 at PSU, 28 people, including 22 foreigners (21 students from China and 1 native of Japan), are enrolled in the 1st year postgraduate course in Linguistics and Literary Studies – mostly due to another PSU alumnus from China, who currently teaches at the Chengdu Institute of the Sichuan University of Foreign Studies.