Perm State University discussed the prospects for scientific cooperation between universities in Russia and China at the Volga-Yangtze Youth Forum. At the Forum, PSU students and teachers presented several reports, covering the history of Perm Society of Friendship with China, the creation of tourist routes for Chinese students and the creation of a common academic network.
"During the preparation for the Forum, we worked closely with the Ministry of Tourism and Youth Policy of the Perm krai. The projects of our University were highly appreciated. In the future, we plan to hold a series of events to discuss the plan and algorithm for the implementation of projects that were developed at the Forum,"

comments Vyacheslav Tereshenko, PSU International Department.
The Forum, which lasted 2 days, consisted of four sections:
education;
science and innovation;
youth entrepreneurship;
tourism, culture and art.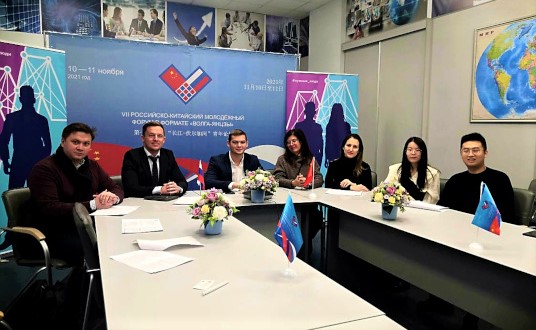 PSU delegates presented the following reports:
1. "The Introduction of Chinese Students to Perm Territory: Tourist Attractions and Routes" by Anna Sterlyagova, undergraduate student, Faculty of Geography, PSU (academic adviser: Svetlana Myshlyavtseva, Associate Professor, Department of Tourism);
2. "Perm Society of Friendship with China: History, Formation, Modern Development" by Mikhail Kamenskikh, Associate Professor, the Department of Culture Studies and Social-Humanitarian Technologies, PSU;
3. "Russia and China: Creating a Common Educational Space" by He Tingting, postgraduate student, Faculty of Philology, PSU.
"I was quite excited to participate in the Forum. We discussed new educational technologies as a tool of international cooperation, the mission of young teachers in education and international exchange, the cooperation of Nanchang University with Russian partners, and the importance of student mobility programs. It was interesting to ask questions to speakers both from China and Russia,"

comments Meilis Tuvakov, undergraduate student, Faculty of Economics, PSU.
The Forum has been attended by representatives of Universities located in the Volga Federal District, Russia, and the provinces of the upper and middle Yangtze River: Anhui, Sichuan, Jiangxi, Hubei, Hunan, as well as the city of central subordination Chongqing. The event is part of the program of the Year of Russian-Chinese Scientific, Technical and Innovative Cooperation.
In June 2019, Russian President Vladimir Putin and Chinese President Xi Jinping signed the Joint Statement between the People's Republic of China and the Russian Federation on the Development of Comprehensive Partnership and Strategic Interaction Relations Entering a New Era. According to the Statement, 2020 and 2021 were declared the Years of Russian-Chinese scientific, technical and innovative cooperation.
During the Years of Cooperation, over 1000 joint events are taking place both in Russia and China, including scientific projects, conferences and exhibitions, as well as intensive exchange between scientific institutions, universities and innovation centers.
Delegations of Perm-based universities have been taking part in the Forum for several years already, promoting academic exchange and opportunities for international students. In 2017, PSU delegates attended lectures at Hefei universities, took tours to local enterprises, visited classes on Chinese history, culture and arts, and planted a tree in the Friendship Alley of Anhui University.