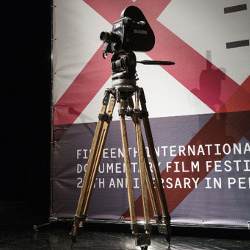 On 6–16 September, Perm State University is hosting the "VUZ-Flahertiana" contest for student-based cinema clubs, as a support for the Flahertiana International Documentary Film Festival.
The VUZ-Flahertiana is a friendly way to talk about how we feel, in relation to non-fiction, true-to-life and hard-to-predict stories, which documentaries are. Our own response might be a valuable part of such a screening. According to the Contest Committee, "the goal of the competition is to promote the dialogue culture, tolerance, civic engagement and motivation in youth environment."
Each University faculty was given the opportunity to choose its own film, referring to the unique collection by the Flahertiana International Film Festival, collected over the years of existence. Flahertiana's competitive selection means we have access to the cream of the cream contestant productions within the documentary field.
"The University develops in a dialogue with the local community, and itself," says Ksenia Punina, Head of the Public Relations Department, PSU. "Here this dialogue is being given technical and intellectual support, as well as the interdisciplinary and unifying approach, hence the choice of films."
Instead of affiliation with a particular field of science, in 2021, the most popular topic is connected to personal progress and self-search, as well as the role that media in that phenomenon. It can be assumed that this choice was triggered by the threat to the human species in the face of the pandemic and the withdrawal of online education.
"We hope that each show will reveal the individuality character of the faculty, encouraging students and teachers to speak out, contributing to the interactive University climate. We are looking forward to make "VUZ-Flahertiana" a year-round film club in a partnership and mentorship of the Perm Cinema Center,"

notes Elena Malkova, Vice-Rector for Youth Policy, PSU.