Interested in studying in Russia? Want to hear the voice of a real person, speaking of her ups and downs while experiencing student life here? Looking for a piece of advice? Prior to her departure, Sara Fraija, PSU student from Republic of Colombia, MSci in Geography '2022, spent her last moments on campus, meeting us at the Press Office for a brief yet sincere interview.
– Hello, Sara, could you please mention your study experience prior to Perm State University?
– For five years, I studied physics at the National University of Colombia (Universidad Nacional de Colombia). At school, I was good at mathematics, I liked its directions and laws, and this determined my choice of a specialty for studying at a university in my homeland. In 2019, I came to Perm to study meteorology.
– Why did you choose PSU?
– PSU was on the list of universities recommended for study at http://www.studyinrussia.com/.
– Why Perm? For it is cheaper than in St. Petersburg or Moscow?
– I had to choose a direction, and the distribution was carried out by the state, which provided financial support for further studies.
– Was it a full-time, campus-based study?
– Yes, although it fell on difficult covid times, so part of our classes were online, almost half of the master's course, for a whole year.
– What was your master's thesis about?
– Here, at PSU, I studied the effects of föhn. This is a type of wind common of the Caucasus, the Alps, the Carpathians, the Himalayas, the Pamirs and, of course, the Andes – a fairly strong, gusty wind that becomes dry when crossing the mountain range and quickly heats up when descending.
For South America, the effects of föhn are of great importance: coffee, cocoa, corn grow are known to grow at quite warm temperatures, yet they die crossing that threshold. While in the Andes, the temperature drops caused by föhns can be 20'C degrees per day, and in Russia they reach even 40'C.
Föhns have a strong impact on living conditions and agriculture – from faster flowering of gardens to drought, dust, even avalanches, and a sharp cold pause after its decline. This is a very interesting phenomenon that might and should be studied using physics and mathematical calculations.
– What do you see yourself on your arrival back home, in Colombia?
– I would like to work as a meteorologist at the meteorological institute.
– How different is Perm or Urals in Russia from your native places, climatically? Yours must be very hot?
– Well, rather I would call our climate stable, there are no such dramatic changes in weather – daily/weekly, or mentioning seasons. We almost always have +20'C, sometimes +25'C, and even +30'C, least of all. The first winter here was the most difficult one, but when it got warmer, I got used to it.
– What was the most difficult thing while studying in Perm and Russia, overall?
– Probably a pandemic – the time when the local people disappeared, and even foreigners from our hostel went home. It was a little difficult, because for the first time I felt what loneliness is all about. It's been hard, yet it's been a good experience to pull myself together and gain strength.
– Did you miss something in Colombia?
– Well, until the second year I did miss everything: cuisine, family, relationships…
– And how did you cope with it? What did help?
– PSU Center for Psychological and Pedagogical Aid provided accompanied me with some practical bits of advice, like how to show initiative or meet friends. Hiking in the nature, seeing people and building communication did help. And, I was also lucky to play in the student theatre group named the Dressing Room; we started with small sketches and came up with a true play. As a result, we staged a modern comedy based on school essays and diary notes – revealing joy and high spirit regardless of their initial seriousness or imaginary drama, evoking understanding and love both among the actors and the audience (https://m.vk.com/wall-436477_13490).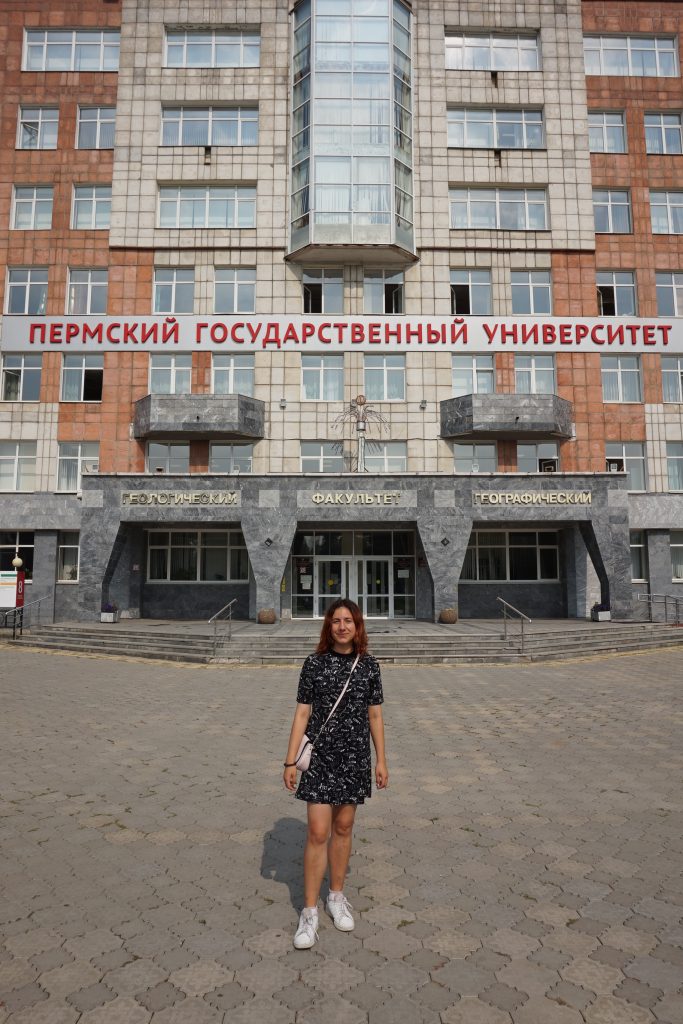 – Let's talk about everyday life, food, for instance. How did you find the local Permian or Russian cuisine? And, did you cook some Columbian dishes?
– Of your cuisine, I did like syrniki (cottage cheese cakes) most of all. I also enjoy your cottage cheese and kefir. Back home in Colombia they are quite expensive. From the sweet, I liked the Napoleon cake. Initially, I couldn't cook myself, yet here I learned to make borscht or schi (cabbage soup), or the traditional Russian 'olivier' salad. The ingredients are affordable, parents helped me with accommodation, and the scholarship helped, too.
– What does your family do?
– My father is an engineer. My sister studied at a film school and is working in television.
– What things will you miss when you get home? What attracts you the most? Alternatively, are there any things that you don't understand or don't like about Russia?
– Here you can live and walk peacefully. At first, Russian people seem indifferent, but at the same time, they don't judge you. It's very cool. Among the negative points, perhaps, is the attitude to customers. While back home it is the client's voice which matters, here in Russia it is often the shop owner who is on top.
– Did you manage to communicate with someone Hispanic?
– Yes, in the Spanish language club at Perm Regional Library. Also, my friend Nastya knows Spanish well. I met her at the University, she comes from a teachers' family and works at PSU.
– Is there any piece of advice you could give other foreign students who intend to study in Russia?
– First, look for people and clubs of interest, for example, dance groups. This is also good because you can hear Russian language more often there. There is an opinion that Russians make little contact, but this is not so, avoid judging others. Make contacts and 'switch' on, that will help you find many good people.
– As I understand , you will be leaving us in just a couple of hours. Is there anything else you would like to share without fear of being rude or impolite, Sara? Anything we missed to ask?
– Well, living and studying abroad helps one to become a mature, grown-up person. You learn to take responsibility and get things done. In addition, life in a hostel can change a lot, especially mixing with the Russian students. There, you also learn understanding and patience, regarding others. Along the way, you tend to appreciate different people, show them respect and expect the same from them. It does help in real life. Do not lock yourself in your world or room, do not miss opportunities, overcome personal doubts and fears, communicate with others.
I'd like to say, that at first it was difficult for me to be friends with Russians, because they do not open up right away and are quite cautious. It may take several months before you call someone your true friend. In Colombia, on the contrary, making friends happens quickly and immediately. Now that I see it differently, as it is difficult to be friends with everyone at once. Leaving Russia, I can say made two real friends here. I hope to keep in touch with them, at least online.
– Thank you very much for your sincerity and the time you took to chat despite your soon departure, Sara. Good luck on your journey back home!