On 14 December 2021, the UI GreenMetric has announced the World University Rankings Results and Awards. The ceremony took place online in Jakarta, Indonesia. According to the Ranking, Perm State University (PSU) has moved up from 446 to 428 place, globally.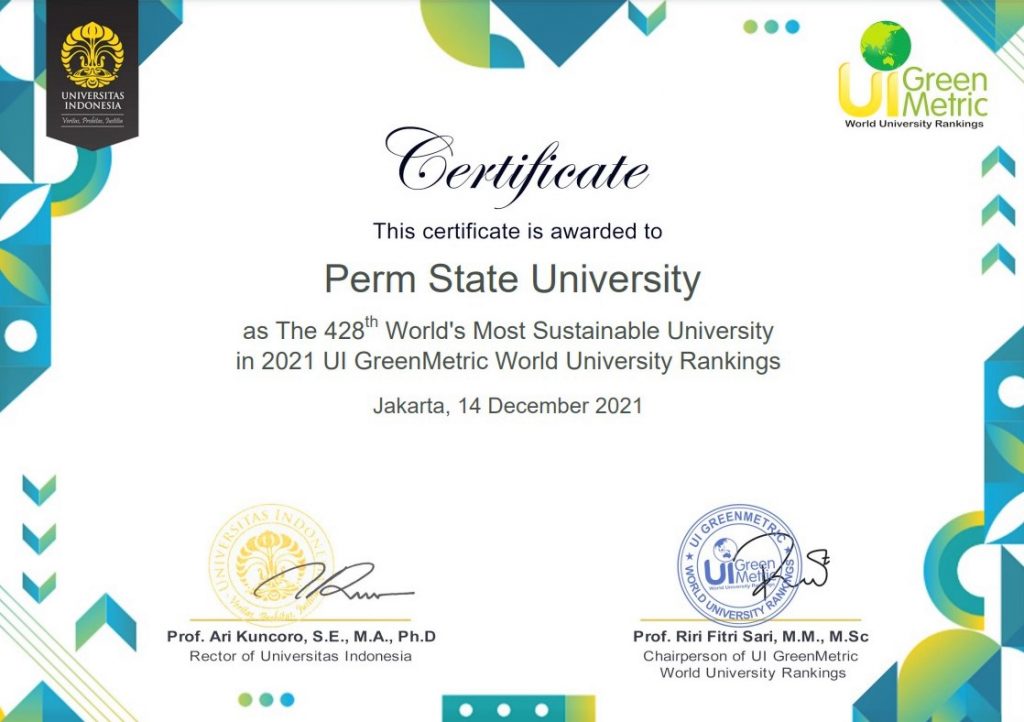 For two years already, PSU has been ranked 16th among the total of 54 Russian universities, having participated in the ranking for two years in a row. On the European scale, PSU takes 132 place. According to UI in GreenMetric'2021 Global Ranking, PSU shows the following results:
Perm State University Global Rank – 428
Total Score – 5850
Transportation – 1175
Education & Research- 1150
Waste – 1125
Energy & Climate Change – 1025
Setting & Infrastructure – 825
Water – 550
In 2021, the UI GreenMetric World Ranking was attended by 956 universities from 80 countries around the world. Informally, according to a feedback by UIN Syarif Hidayatullah Jakarta, 154 world universities fall into the Gold Cluster category, 435 universities are in the Silver Cluster category, and 367 universities are in the Bronze Cluster category: https://www.uinjkt.ac.id/ui-greenmetric-2021-uin-jakarta-achieve-the-2021-most-sustainably-improved-university-status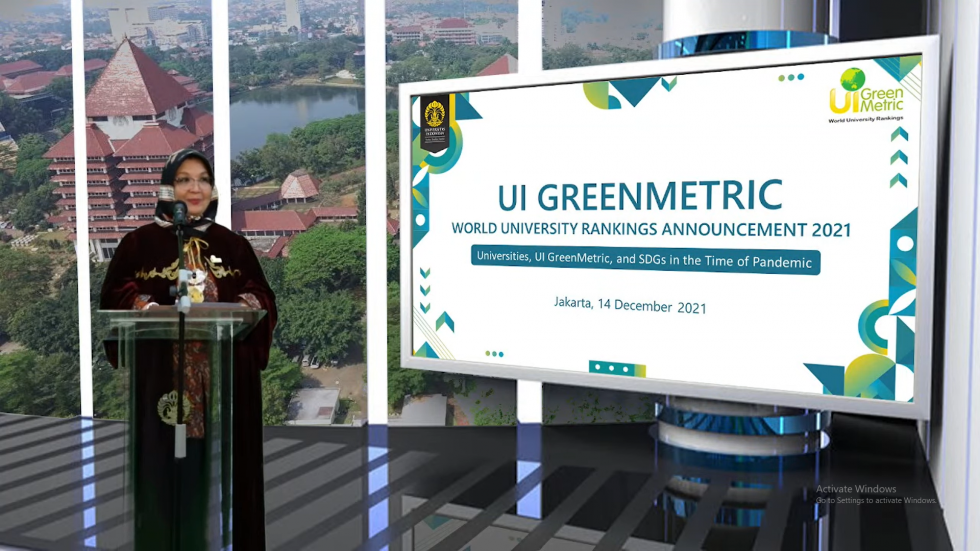 At the global level, the five highest rankings were respectively achieved by Wageningen University & Research (Netherland), University of Nottingham (UK), University of Groningen (Netherlands), Nottingham Trent University (UK), University of California, Davis (USA).
According to UI GreenMetric vision, regardless of the existing rankings, a need for a uniform system addressing the problems of sustainability and environmental impact allowed them to launch a new ranking, marking universities' ability to reach Sustainable Development Goals (SDG), since 2010.
In their present greetings letter, the UI GreenMetric team has stated that the rankings participants "have successfully demonstrated improvement in their university strategic measures to achieve SDGs in all aspects of their university activities… to create the most sustainable world campuses."
UI GreenMetric Ceremony Picture Source.
Press Release UI GreenMetric 2021.
PSU.ru Factfile 2021 Full.