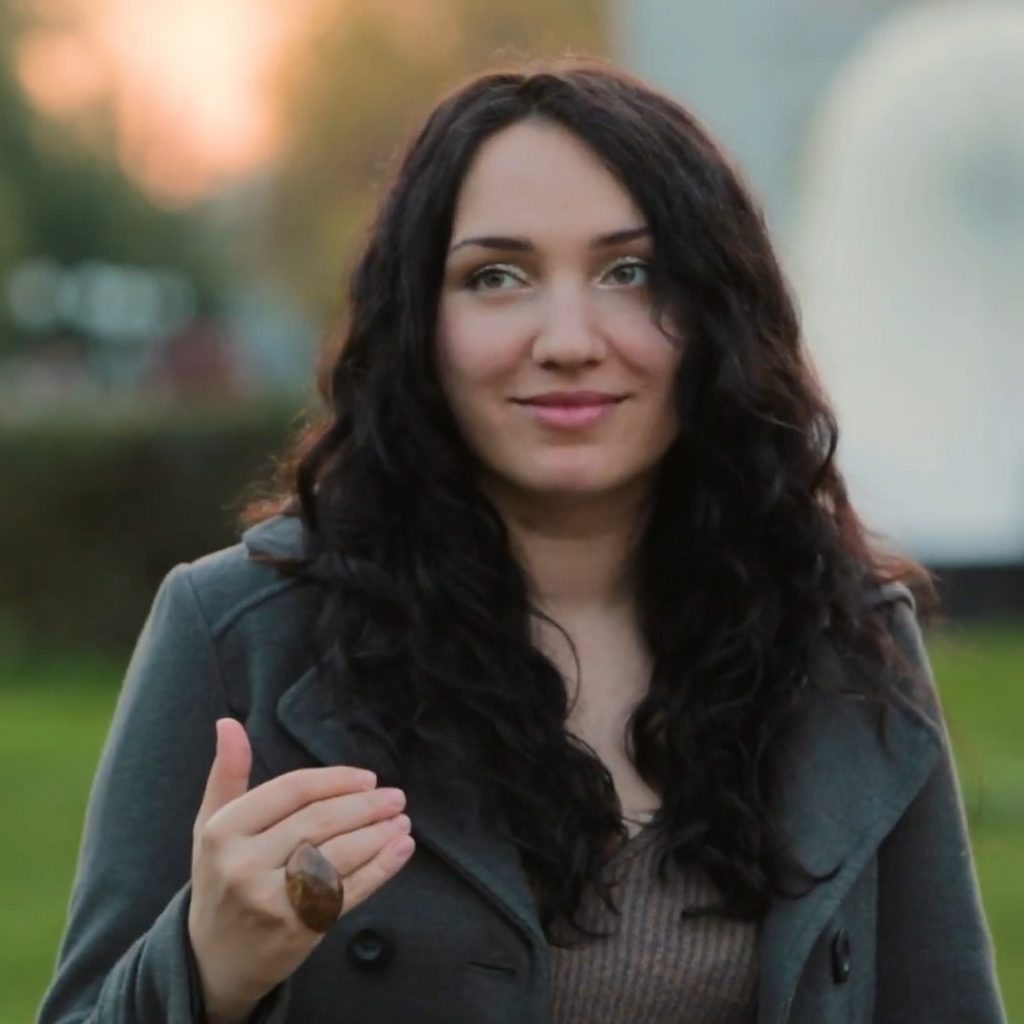 Olga Averkieva, a senior teacher at the Department of Journalism and Mass Communications at Perm State University (PSU) has brought together the stories of nine characters who had left Perm but came back to discover their own way in local arts, business and social life, as a set of documentary shorts – uniting them into the "Back Home" Film Project.  
The fifth short episode shows Lidia Skornyakova, a graduate student of the Faculty of Philology, PSU. Having had entered the University once, studying Journalism and Philology here, she then worked as an exhibition manager and art critic for the Yeltsin Center, Ekaterinburg, Russia, and later moved to Dubai, UAE. Yet, she got back to Perm… Following Lidia, in her own words:
"This is a brief story how I learned to be happy – getting back to where I once belonged. I was born in Perm. After school, I entered the Faculty of Philology at Perm State University. I initially went to study journalism, but got bored, and switched to philology, since I had always been into foreign languages. By 2011, when I was supposed to graduate from the Faculty of Philology, I experienced life crisis. That time, I found escape to be the only way to resolve my problems. I decided that moving to a different city and connecting myself to a different activity would make me different, too – and so shake my previous burdens off. I got carried away by an idea of becoming an art critic. I went to the city of Yekaterinburg, 3,5 hours car drive from Perm, and started looking for a job. My first serious professional occupation was the one at the Yeltsin Center, dedicate to the 1st Russian President and his era. The project had just been launched, encouraging each one of us to do our best. I remember myself getting into the thick of it, quite intensely. "

"The first time I went abroad was in 2012, a trip to Thailand. It all seemed a different planet to me, contrasting to my own environment and family's vision that travels are for the rich people, as they don't mind wasting money on nonsense; "What for? At which expense? Why not buy something practical, like kitchen crockery, instead?" After leaving the Yeltsin Center, I flew to Dubai. And, while I was moaning there to a female friend of mine, saying I didn't want to return neither to Perm, nor Yekaterinburg… since after the Yeltsin Center everything seemed so low-scale and much too common to me… my friend told me: "Go, try find a job here! Elsewise, what's the use of studying English for so many years?' So, I did go and did find one. I became a real estate consultant with a 1,5 year contract. Gradually, I started getting tired of Dubai, feeling lack of cultural activity and native language communication in its deeper sense – looking for ideas and things to discuss instead of everyday routine, you know? I was missing performances, plays, theaters. The situation at my work did not get better, either. First, I realized that selling real estate was not my cup of tea. And, secondly, there was a moment when they decided to fire everyone right on New Year's Eve. I didn't like the idea of waiting for my turn, and flew back to Perm. "

"Gosh, finding myself back home in Perm, I rushed headlong to the local stage scene and shows, at last! I did everything I could: the Philharmonic, the Organ Hall, the Cultural and Business Center, the Opera and Ballet Theater, and many other places, almost every day. I started thinking of where to study. And, as I stepped onto the University campus, something clicked – as it always did, and does every time I get in here: my goodness, how cool is the vibe, that's  the place I've been missing! The Master's Degree in Chinese was well announced, so, I passed the exams, and our Dean Dr. Boris Kondakov called me to say: Welcome to the Faculty, glad to have you back! "
"When I started my Master's, I had been working, already. An old friend of mine had offered me to take part in a cool project by the Morse Code Creative Agency – a company dealing with museum design. As a result, I started a project that I am finishing now, telling the story of Perm basketball. I see it as my personal 'Yeltsin Center'. Most importantly, not only did this project give me a new starting point, but a new perspective of my own life, too. Previously, I considered Perm quite a boring place: not obviously true, rather because I never showed interest in it. "
"Having started working at the Yeltsin Center, I discovered that the Perm people had often been the driving force behind changes outside the city. Like, when I lived in Dubai, I discovered a whole diaspora of Permians. This came as a shock, since I always regarded Perm as a small place, some kind of a province, almost a backwater in the middle of Russia. But, no! Many people are aware of Perm State University where I am currently studying at. Perm has its own sociological and linguistic schools – which are not imaginary, like a play of Perm scholars' egos, but the internationally recognized ones. On the whole, these are the people who share their sparkle with you, some really interesting personalities and outstanding individuals. I can't explain why these people still make Perm their homeplace. I would, of course, like to see certain opportunities allowing them to not only personally grow, but also feel required, important and in demand to Perm… For it is here, not in St. Petersburg or Moscow, Yekaterinburg or Dubai, that they might have these prospects, belonging to their home. "
Looking back, and as an afterword, Olga Averkieva, author of the project admits: "We did not mean to shoot it for the sake of cinema as art. It is a collective reflection on why people are coming back. I hope that these series may become an impact film – the one affecting the social situation in the Perm territory. Following that line, we can go to schools, colleges and social cinemas, places of free screening, where the "Back Home" series are much welcomed." The project had already been supported by the Presidential Grants Funding and the Ministry of Culture of Russian Federation.
The "Back Home" Film – see the original episode "To Be the Happy One" 9in Russian) here.
Starring: Lidia Skornyakova, Aleksandr Noskov, Marina Garanovich, Maria Duhnova;
Script and editing: Kapitolina Dolgikh,
Camera crew: Sergey Lepikhin, Angelina Trushnikova;
Sound design: Mikhail Toropov;
Composer: Gannadyi Shyroglazov;
Project by: Olga Averkieva;
Art mentorship: Boris Karadzhev;
Produced by Olga Averkieva and Vladimir Sokolov;
The Novyi Kurs (New Course) Film Studio, Perm, Russia.