Greetings by Rector Igor Makarikhin
Dear Friends – Undergraduates, Students, Visiting Scholars and Partners.
Welcome to Perm State National Research University – a place to discover the world and create your future!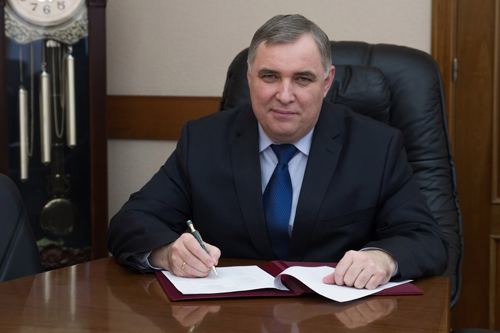 Perm State University (PSU, for short) is one of the centers of intellectual and cultural life in Russia, taking place among leading universities of Russia.  According to the Round University Ranking (RUR), in terms of academic performance in Life Sciences, PSU belongs to the Copper League universities, that is, the top 500 world universities, and 35th on the national level, exclusively and aside from other higher institutions in Perm.
The University is the first one in Perm region to be included in the Quacquarelli Symonds (QS) list of academic ratings. Since 2014 the University is among the best higher institutions of BRICS, European and Central Asian developing countries. In 2016, PSU firmed its position in "Education" and "Branding" ranks of the National Universities Rating. The Afisha Magazine put Perm University among the best regional higher institutions noting it precedes its rivals in social sciences and has an excellent campus.
Within a 100 years of academic tradition, PSU has formed a neat attitude in growing knowledge. The National Research status it reached in 2010, allowed more innovations, technologies and advances to flow into practice-oriented research, to name environmental studies and pharmacy. The highly ranked scientists and lecturers live and come to work here, including visiting scholars, bringing best international academic practices into the study process. Annually, PSU students and staff participate a variety of exchange programmes by our partners from all over the world.  
The University life is constantly spreading a unique creative feel. Drama, sports, music and dance groups meet here and interact in bigger venues at the Student Hall. Open lectures, discussion clubs and cross-disciplinary research help making the study process more creative and less formal. Separate divisions work with undergraduates, graduates and retraining professionals. The University goes far beyond its campus, its events being covered by a dozen student media, including University broadcasts – radio and television, web site www.psu.ru, Facebook and various social networks. 
In a new centennium Perm State University willingly faces new challenges, opening horizons, providing opportunities for scholars and teachers, young professionals and creative people. 
Come and experience it with us!
Rector Igor Ju. Makarikhin,
Dr. Sci. in Physics and Mathematics,
Associate Professor.