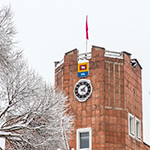 The Center for Educational and Scientific Exchange, PSU, has announced new opportunities for PSU faculties and their partners – concerning collaborations with international and Russian-based scholars.
Online seminars and lectures will be recorded and published on the Center's website. The Center will also provide assistance on making necessary agreements and events' video recording.
Please, notice that according to the existing fiscal rules, fees paid to the invited scientist may be made exclusively through an account in a Russian bank.
Feel free to send your applications for online lectures engaging invited scientists by e-mail vkenner@yandex.ru
The Center for Educational and Scientific Exchange, PSU, provides assistance with:
• organization of visits by international and Russian scholars to the University;
• organization of short-term internships for the University scholars;
• support of existing international relations, informing foreign partners about the activities at the University;
• coordination and assistance of international activities by PSU faculties, departments and divisions.
Among visiting scholars by the Center for Educational and Scientific Exchanges are world-top specialists from a variety of countries working in modern fundamental and applied science. Tutorial materials are integrated into the educational process in a number of undergraduate and graduate disciplines at the Faculty of Physics.
Since 2012, several visits have been set within the International Research Groups (MIL) Program, implemented by the Ministry of Education and Science of Perm Krai. The Program provides financial support for joint research groups of Russian and international scholars in physics, chemistry, biotechnology and interdisciplinary research.