Imagine a situation when it is a robot doctor, who helps in a hospital or public place with assistance and navigation – greeting visitors, providing first health diagnostics, reducing coronavirus' spread and other safety risks. Fantasy? Well, a reality, already. Besides doctor's task, having offered such a service, the team needs to perform programming, address different audiences and language groups, as well as stay keen in hi-tech. May you take part in that? Find out more for yourself!
The Department of Linguistics and Translation, PSU, in cooperation with the Promobot are inviting students for a multilingual project to adapt robot interaction scenarios for foreigners. For students of Perm State University, this will be an officially approved internship. Invited are students with a passion for new technologies and language analysis, open- and nimble-minded. The activity will be run in four language directions – English, German, French and Spanish. This is a long-term project, starting in December, 2021 and continuing throughout the winter and spring, 2022.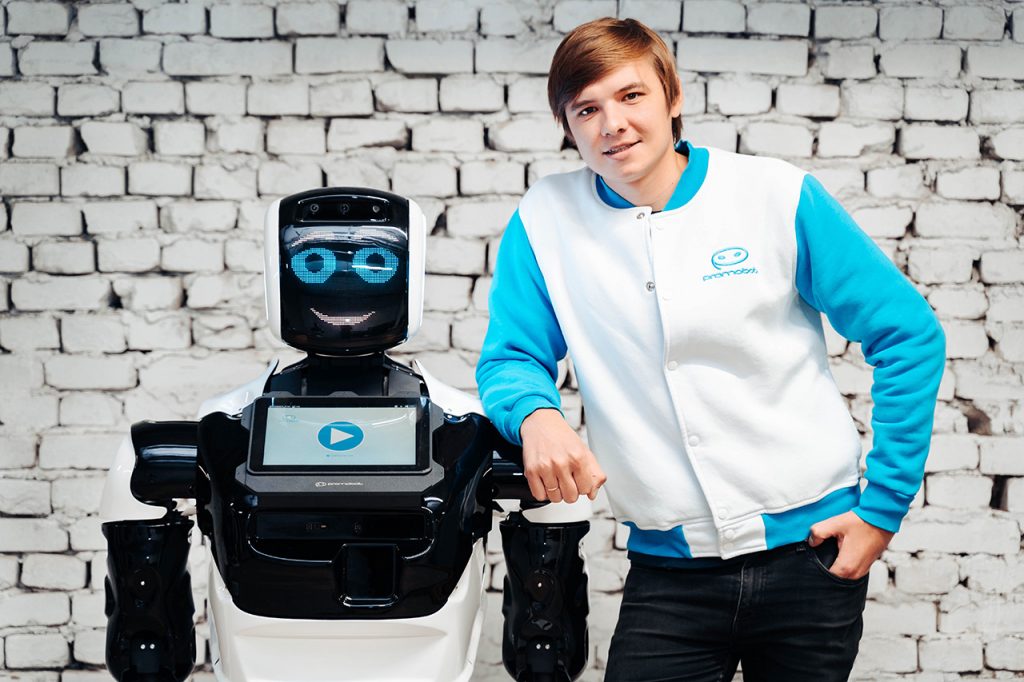 Founded in 2013 by Perm-based graduate students, the Promobot today claims to be the largest manufacturer of autonomous service robots in Russia and Europe – conducting research and production in mechatronics, electronics, artificial intelligence and neural networks, autonomous navigation, speech recognition, artificial skin and muscles, as well as human-machine interaction.
The company offers several products in a shape of a robot – an info desk manager, a promoter, a receptionist, a tour guide, an administrator, a scanner, and many more – providing connection to external systems and services. The geography of Promobot has recently expanded to 40 countries, including Armenia, Austria, Czech Republic, Germany, Ireland, Kazakhstan, Latvia, Oman, Romania, Spain, Sweden, Switzerland, Turkey, UAE, USA and UK.
The Faculty of Modern Foreign Languages and Literature at PSU traditionally acts as a link between young translators/interpreters and city enterprises, government institutions, social and cultural initiatives looking for international cooperation. "Not does internship in translation help students to master their profession, but also connects them with a variety of experts, allowing them to sharpen skills and see prospects for future research," emphasizes Natalya Khorosheva, Head of the Department of Linguistics and Translation, PSU. "In turn, we feel our students are in demand at the city's venues, contributing to international cultural agenda."