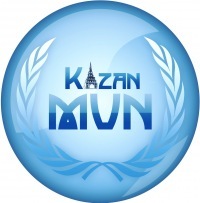 Seven students in International Relations, Faculty of History and Politics, Perm State University (PSU) participated the Model UN role game, which took place in the city of Kazan, Republic of Tatarstan (Russia) from 31 March till 3 April, 2021.
After the grand opening of the Kazan Model UN at the City Hall, along with other participants PSU delegates developed draft resolutions, each representing a different country (Czech Republic, India, Morocco, Nigeria, Ukraine, Vietnam), following their objectives and the Conference format.
"I had a privilege of representing India at the UN Refugee Agency. It was difficult, yet interesting as we had to get allies and unite them in a coalition. Our committee worked the longest, perhaps because both coalitions were strong. Still, towards the end of the Model, we realized that we had common goals, which led to a faster quickly adoption of the final resolution," recollects Anna Chernova.
"Initially, I was attracted by the institution of UN – its formation, history and roles. The Model UN is a synthesis of a scientific conference and a role play, where one might get a pleasant feeling of diving into the subject of discussion and picking up new info gems. I defended the interests of Morocco on the topic "Countering the use of information and communication technologies for criminal purposes".
"Due to the trip to Kazan, I realized I must definitely see what my future colleagues, those students from other universities are doing and studying. They did amaze me with their knowledge of international relations and international law, as well as their ability to perfectly present their subject. That gave me new insights and ideas for future career development," admits Ekaterina Mekhonoshina.
"As a delegate of Vietnam, I experienced all the challenge of those countries who do not have the right to critically influence the final decisions by the committee. In order to convince the Security Council that Vietnam's interests have much in common with their own, I used each opportunity to lobby it through public appearances, official debates and even coffee breaks," Kirill Aleksandrov recalls.
"Thanks to my participation in the UN Model in Kazan, not did I only feel like a true politician and diplomat, but also developed my skills of public speaking. I had the opportunity to stand for Nicaragua, and was given a week to study its all possible aspects – geographical, economic, political, social, cultural, etc. At the end, we were given certificates for participation," shares Marina Zhuravleva.
"In addition to students in political science, I managed to acquire a huge number of new acquaintances among lawyers, culturologists and political scientists. It was pleasant to conduct a dialogue with almost everyone, including foreign participants. The Kazan Model UN gave me a new understanding of the world and the society in which I live, including the neighboring republic of Tatarstan," says Gleb Oborin.
For four days, PSU students acted as diplomatic representatives of UN member countries to resolve issues of concern to global community. At the end of the Conference, along other participants, PSU delegates voted on written policies, known as "draft resolutions", with the goal of passing them with a majority vote. As a result, Model UN certificates will serve a great reminder and inspiration, for many.