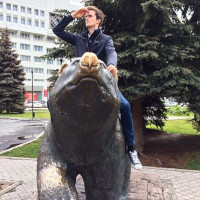 The WE ARE International Festival starts at Perm State University today. The Festival will run for 20 days, from 9 till 29 November, in an online format.
The Festival participants are going to complete challenges and share them on their social networks. The most interesting performances will be included into the selection list.
Well, which challenges? Be inspired!
"Step by Step": go to three local, Perm-based cafes. Take a photo in your favorite place in Perm or in the city you are now. Take a photo with the "Permiak the Salty Ears" sculpture in the Perm city center, make fun of the word play and the image!
"Hi, I am a Foreigner!" Take a photo in a national costume. Meet three students from another country, add them to social networks. Get together as a group of 3-5 people and record a shared video with a dance!
"I'm Talking". Quickly read a Russian tongue twister three times. Write in the story "I love Russia" and add why. Say the name of the dish 'echpochmak'. Buy it and try it out.
"Attempt/Dare!" Cook a Russian dish and eat it with your friends. Taste a new Russian-based, multinational dish – like kissel, kvas, lard, jelly, okroshka, posikunchiki, chak-chak, dried fish, 'herring under a fur coat'.
What are the ways to meet challenges and successfully complete them?
Make a post was in Instagram or Vkontakte. Be sure to put the hashtag #weare_challenge. The post must contain a photo or video of how you complete the task; a short text (3-4 sentences, at least) sharing your emotions and thoughts after completing the challenge.
Feel free to express yourself in Russian, English, or your native language!
Get in touch with WE ARE here: https://www.instagram.com/we_are_festival/, https://vk.com/we_are_festival
See PSU Facebook for more news.