As part of a group of Permian scientists, PSU geologists examined a deposit of basalts found in the Pinsk region (Belarus), regarding its capacity for production of cast glass-crystalline materials. The total reserves of basalt and tuff are estimated at 164.1 million tons.
"Basalt is known as one of the main 'building components' of the earth's crust. Since 5/6 of the Earth's surface is covered by oceans, it is mostly the oceanic type we are talking about. With a thickness of 5-15 km (3-9 mi), it is mainly represented by basalts. The challenges of basalt technologies have been the subject of our University scientific research for more than 10 years,"

states Dr. Vladimir Naumov, Department of Prospecting and Exploration of Mineral Resources, PSU.
The laboratory and technological samples were sent to the Natural Science Institute at Perm State University, where a complex of analytical and experimental studies have been carried, determining the composition and mineral structure of the initial substance, as well as change of its properties under the high temperatures, within melting,. Using a micro-analyzer, information on samples' chemical composition was obtained.
"Using the potential of a specially accredited lab here at PSU, enforced by professional equipment and experts involved, recommendations were developed for methods and parameters of rock processing to obtain cast glass-crystalline materials. The scientific report showed the charge compositions with various technological additives; it served a demonstration of specialized melting equipment and principles of its operation, and also commented on physicochemical properties of the materials obtained,"

says Dr. Vladimir Naumov.
The scientists presented a technological scheme for obtaining cast glass-crystalline and welding materials, as well as information on types of products and areas of their application. Also, the analysis of market demand and final products' application have been performed, with regard to stone casting methods, on industrial scale.
The study involved the cooperation of several research teams, as a 'test-drive' consortium of Perm Scientific and Educational Center "Basalt Technologies" – uniting the research Laboratory of Sedimentary and Technogenic Deposits, the Laboratory of Mineralogical and Petrographic Studies at the Natural Science Institute (PSU), the Division of Nano-Mineralogy (PSU), as well as specialists from the Perm National Research Polytechnic University and the Helium Research and Production Company.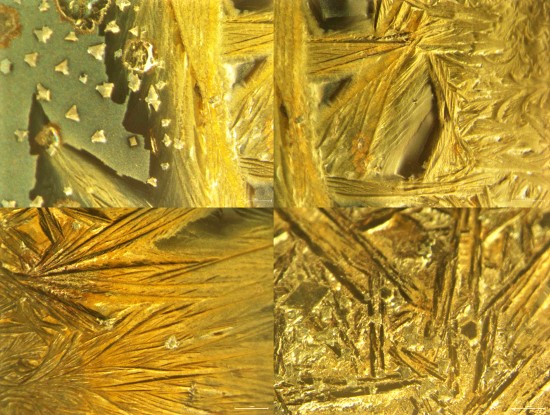 On photo: photomicrographs of obtained cast glass-crystalline materials' surface